25 October.
3 months to go and then the new Haruki Murakami novel, 1Q84, will be published in English. Be still my beating heart! It is being published in two volumes, the first of 500 odd pages and the second of 250 odd. Ooh, something to get my teeth stuck into. It is rumoured to be his Magnus Opus and I am extremely excited to read it.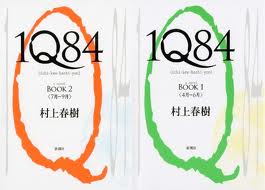 I thoroughly enjoyed Kafka on the Shore and have read most of what has been translated into English. A Wild Sheep Chase is also a particularly good one.
Check out Wikipedia for all the details, story line and publishers. I just wanted to share the exciting news with you all.
So who  is counting down the days?
(or wished they could read Japanese??)