So, how many of you have read Room by Emma Donaghue?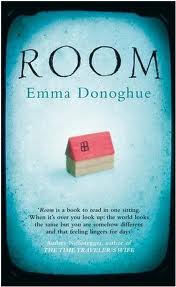 I read it over the festive season after hearing word of mouth rave reviews from all most all my bookish friends. I decided to buy it and read it and see what on earth it was all about, because if you haven't read it, and someone has told you about it, I'm sure you realised that they haven't told you too much about the actual story… Am I correct?
Well, I'm about to tell you the same thing, its a VGB (Very Good Book) but I can't tell you the story line.
What I can tell you is that I have one copy to giveaway for one lucky reader!
Yip, just one, so get those fingers talking and leave a comment telling me what you think the story is about, and for those of you who have read it, no telling and spoiling the suspense, k?!
The giveaway is open until the 25th Jan 2011, that gives you a week, and its open to South African residents only.  I will randomly choose a winner by putting all your names into a hat and pulling out one name.
so, get commenting…
P.S. if you don't win a copy, you can click on the picture and it takes you straight to Kalahari to purchase a copy if you do so wish.