And what better time to read Christmas themed books?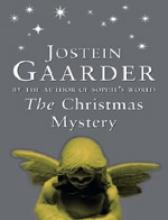 The Christmas Mystery by Jostein Gaarder -(of 'Sophie's World' fame) is one of my favourite Christmas books.
Jostein Gaarder weaves a magical tale with his story of Joachim. Joachin buys a magic advent calender on November 30th and every day, a piece of paper falls out of the door of the calendar. Each page tells the story of Elisabet Hansen, who chases a toy lamb that has come to life from an Oslo department store. While chasing the lamb, she meets the angel Epiriel; the shepherds Joshua and Jacob; Caspar, the King of the Orient; and the cherub Impuriel.
This is a perfect book to read at the beginning of December as the lead up to Christmas is happening just as it is in the book. Jostein Gaarder has a delightful way with words and story telling and with some philosophical musings at the same time. it is a mystery about Christmas, and purely delicious.
(I have read all his books, enjoyed them all and will definitely be giving this book a reread this coming Christmas.)
Do you have any favourite Christmas books to share with us?
---