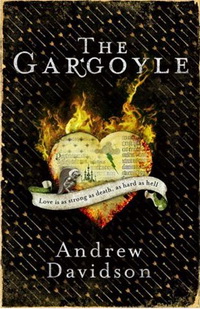 The Gargoyle by Andrew Davidson is a beautiful book!
I discovered this book about a year ago, when I was wondering through Waterstone's in the UK, but at the time, it just wasn't what I was looking for. Even having read the first few pages ( I always read them to see if I am going to 'get into' the book) and knowing that it was something that I would like to read at some point, I didn't buy it. In a way I am glad I didn't, else I wouldn't have recently rediscovered it! But on the other hand, I can't believe I waited this long to read it!
The writing is beautiful, the story is interesting, the characters are larger than life. There are stories within stories and the opening chapter begins with how one of the main characters got burned, in a car accident. At times during the reading of this chapter, it was a bit hectic, because the way he describes the burning, is enough to make anyone cringe.
Ultimately, this story is a love story, a 700 year old love story between a man and a woman. But the telling of it, includes the present day through the past. It is fantastically done and extremely well written. I don't want to tell you all the other details as it will detract from the telling of the story line, just be sure that if you are a romantic at heart (even if you don't admit it to anyone!) and enjoy a well written novel, then this I cannot recommend enough.
---
2 Responses to "The Gargoyle – Andrew Davidson"