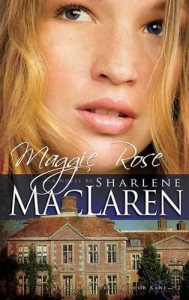 Thank you, Cathy for your book review.
This is book 2 in the Daughters of Jacob Kane series… and wow it blew me away.
I loved book 1 (Hannah Grace) but this one… what can I say… it was great…. funny, endearing and heart-tugging beautiful.
You dive straight in a journey along with Maggie Rose as she leaves home in Sandy Shores for the big city of New York and the Sheltering Arms Refuge (orphanage) where she will be working.  Along the way you also meet the children, the others who work in the orphanage and a reporter who has had a tragedy in his life and needs healing.
This was one book I couldn't put down.
Now comes the long wait for book 3 which only comes out around September 2010.
( We look forward to hearing about the next one in September!)
---
One Response to "Book review – Maggie Rose by Sharlene Mclaren"