As most of you know, I received this book through The Book Blogger Holiday Swop and was seriously looking forward to getting stuck in.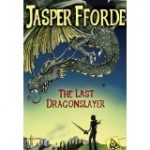 It only took me  a couple of days to read, due to it being a smaller book than his usual fare. It probably would of taken less time to read if I had had uninterrupted reading time, but alas, that was not to be.
I really enjoyed this, it was short, sweet and had the characteristic Jasper Fforde characters. If you haven't read him before, this is not a bad one to start off with.
The storyline:
'Jennifer Strange runs Kazam, an employment agency for soothsayers and sorcerers, but work is drying up. Drain cleaner is cheaper than a spell, and even magic carpets are reduced to pizza delivery.
So, it's a surprise when the visions start.Not only do the predict the death of the Last Dragon at the hands of a Dragonslayer, they also point to Jennifer, and say something is coming. Big Magic…'
This is an easy to read book, with a twist and a turn that isn't expected. It has the greedy power mongers vs the caring dragonslayer, and it doesn't fail to deliver.
I enjoyed this book immensely, and I think it would make a great gift for Christmas especially a young adult, or someone who enjoys a bit of fantasy (but not too much and more tongue in cheek, than the usual fantasy fare0.
Go on, give it a go and then let me know what you think…
---