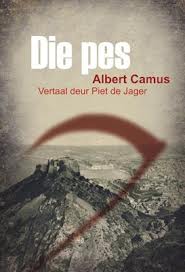 Review sent in by Eleonore Godfroy.
For Afrikaans Albert Camus fans, check this out!
"Die Pes" ("The Plague"), one of the most successful novels of Nobel Prize winner Albert Camus, has just been translated into Afrikaans. A masterpiece of 20th Century literature, the text was translated by Piet de Jager and published by Protea Boekhuis. This initiative is supported by the French embassy in South Africa and the French institute ("Institut français") in Paris, with the aim to promote linguistic diversity and access to French literature.

First published in the aftermath of World War II, "The Plague" chronicles the sweeping of Oran, a city of then French Algeria, by the disease. The inhabitants of the city try to find a response, some showing great courage while others endeavour to escape. The text is often read as a metaphor for the various reactions to the brutal occupation of France by the Nazis.
Despite Camus' objection to the label, "The Plague" is considered as a classic of existentialist literature, where the irrationality of life sweeps individual ambitions and the "absurd" ultimately triumphs. "The Plague" aims to illustrate how the world ultimately deals with the notion of the "absurd", that is the conflict between the human tendency to seek a meaning in life and the impossibility to ultimately find any. Camus further extended this thinking in "The Rebel", a philosophical essay published a few years after "The Plague".
The Book launch of "Dies Pes" by Albert Camus will take place at Alliance française of Johannesburg, 17 Kerry Road, Cnr Lower Park Drive, Parkview, on Saturday 18 August at 11.00am in presence of the translator Piet De Jager.
---