So by now most of you have heard the news that there is a new South African author in our midsts – Paige Nick, who has written the novel 'A Million Miles from Normal' but you may be a little confused because the name sounds familiar?
Paige's blog is also titled 'A Million Miles from Normal' and if you haven't yet headed over there to check it, believe me, it really is a million miles from normal. But, Paige has also been a winner at The Book Club Blog for a couple of giveaways (here and here) as well as being  one of our major contributors to The Book Raiser we did for Christmas last year.
It was with great pleasure that I  invited Paige to do an interview with us, after reading her book, I was itching to know just that little bit extra…  so without further ado, here she is… Paige  Nick, the newly published author of 'A Million Miles from Normal'!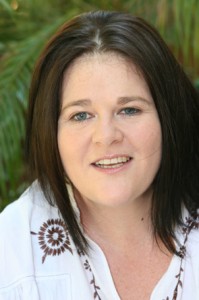 1)  Are the characters,events and locations in your book based on your own life experiences?
I'd say it's 95 – 99% fictional. But some of the places and things that happen to Rachel are very loosely based on experiences I've had over the years.

2)  How long did it take you to write 'A million miles from normal'?
It sounds so corny, but I really think this has taken me 35 years to write. Only because I feel like everything I've done to date has led me to this point.
For years I had an idea for this book I wanted to write, but it turned out to be a terrible idea that I ended up wasting years on. The best thing I ever did was put that dodgy idea aside and start something new, which then became A Million Miles From Normal. Once I knew what I wanted to write it just fell out.
In reality I started physically writing A Million Miles in September 2008.

3)  What inspired you to write 'A Million Miles from Normal'?
I was inspired by every dodgy date, lying-cheating-stealing boyfriend, mad boss, insane client and crazy art director I've ever come across, I knew they'd come in handy somewhere along the line.
I was also partly inspired by the advertising industry. I've been a copywriter for the last sixteen years, and I love books and TV shows set in adland, like Mad Men. But there just aren't that many books out there set in the industry. I thought it would be a fun thing to write about. And they say you should write what you know.
4)  I love how you bring 'Five Roses' tea into your story line, the epitome of South African tea lovers, what is the perfect setting for your perfect cuppa?
The physical writing of this book went hand in hand with endless cups of Five Roses tea. The one certainly couldn't have happened without the other.
5)  As a newly published author, what were your experiences dealing with publishers and editors?
I think I have been incredibly lucky through this process. I nabbed an agent early, the wonderful Ron Irwin, and we put the manuscript out to pitch after two redrafts. Then we signed with Penguin in September 2009. The process has been a huge learning curve for me. After being in the advertising industry for so long, and feeling like I understand it inside and out, it's been a fantastic challenge to get to see the inner workings of a whole new industry.
Coming up with the right cover was hard work, and probably the trickiest part of the process for me. We must have bombed over twenty covers before we finally got to this one, just days before deadline. But seeing the finished product and loving it so much instantly made all the trauma history.

6) Do you have any ideas percolating for your next book?
Yes. Yay! I'm just finishing up with the first draft of the next book which will hopefully *holds thumbs* be out next year. It's not a sequel but something completely different. It still doesn't have a title, but I'm hoping something will pop up soon. I really can't call it 'Untitled', or as it is currently lovingly named in the folder on my computer; 'Thingy', for too much longer.

7)  Which authors would you recommend to read which are in a similar writing style to yours?
Well if you're a Chick Lit fan you can never go wrong with Marian Keyes. And Cathy Kelly Rocks. And it's not strictly speaking Chick Lit, but I've also loved Alexander McCall Smith's series of books called 44 Scotland Street.
I love a book that makes me laugh or sucks me in with believable characters. I want to disappear into the pages and not come out till morning.

8)  What were your favourite books as a child?
I just loved 'A Fly Went By' by Mike McClintock, and devoured anything Dr Seuss. My whole family would traipse down to the library every Saturday morning to pick out our books for the week and I would always just re-check out 'A Fly Went By'. I don't think any of the other children in the neighbourhood ever got to read it because I always had it out.
Then when I was slightly older I remember reading and rereading Neverending Story by Michael Ende. It made me truly believe in magic.
9) What authors would you most like around your dinner table, and if you could ask them one question, what would it be?
At this stage I'd love to have dinner with any prolific author. I'm only just starting out here and any advice would go a long way. I'm curious how my process measures up to other writer's processes.
But if I had to be specific, I'd love to meet Alexander McCall Smith and pick his brains. And my new all-time favourite author is Jim Crace. He writes literary fiction that is lyrical and poetic and magnificent. I could see myself stalking him quite easily.
Thanks, Paige for sharing with us, it was great to hear a little of the 'behind the scenes' action, and once again, congratulations!
And to celebrate with Paige, we have one copy of 'A Million Miles from Normal' to giveaway! Why, because we like celebrations and that's what we do here at The Book Club Blog!
What you need to do to stand the chance of winning is leave a comment, telling us one thing which has happened to you, which was a million miles from normal. The giveaway is open to everybody, yes, you read correctly, so that means, internationally and come next week Friday 16 April, random.org will pick a lucky winner. You never know, it could be you. You know what they say, you have to be in it to win it;-)
And believe me, this is one giveaway that you don't want to miss!
Drum Roll, please...and a giveaway!

,
---
11 Responses to "Drum Roll, please…and a giveaway!"