Cat over at Juggling Act is having a wonderful give away of a fabulous children's book.
And not just any book, this is  a garden book, called Roots, Shoots and Muddy Boots by Samantha van Riet. Even the name is fabulous. The book comes in two parts, first how to grow your veggie garden and the second part how to use your freshly grown produce in recipes. What a wonderful way to introduce your child to the pleasures of growing your own food!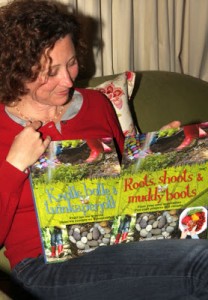 So what do you need to do to win this gorgeous book?
Rules for entries:
1. Leave a comment on Cat's blog telling her which veggie is your kid's favorite as well as your language preference and one on Sam's blog's either on the current post or her special Valentine's post tomorrow. If want to win either of the English or Afrikaans versions, tell her and she will enter you in both the draws. (and your chance doubles, just because both Sam and Cat are both Afrikaans). You have to leave a comment on both blogs for an entry.
2. For extra entries, tweet about the competition mentioning Cat @catjuggles and leave a comment on her blog that you have done it.
3. For another extra entry share about the competition on your Facebook profile and leave a comment on her blog that you have done it.
4. For another extra entry  blog about the competition and leave a comment with the link on her blog.
Easy Peasy as Gemma says!
This give away is only open to South African residents or someone with a South African postal address.
Winner will be chosen by random.org and competition closes at 1 pm on Tuesday 19 February 2013 so best your get entries in!
And good luck! I am hoping to win a copy for Gem's' birthday next month!
---