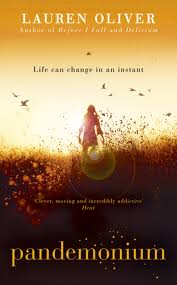 Pandemonium carries on where Delirium stops. Again, I thoroughly enjoyed this book! It was slightly different in the story set up in that it switches between 'now' and 'then'.  *SPOILER ALERT * Then being the time Lena is in the Wilds and who she meets and how and what happens after escaping from 'her old world'. Now being the story of what is happening in her life then. What I really enjoyed about this book is that it shows how someone can creep into your heart even though you may love someone else. How feelings grow between two people on completely different sides and different ideals, but yet sharing experiences may or may not mean love. I am truly looking forward to seeing how this pans out in the next book!
I thought it was written really well and I quite enjoyed reading the parallel stories. It brought to mind The 100 year old man.. book as it has a similar way of telling the story.
Lena is a great character in this book and I think the author kept her real, believable and extremely well written.
I don't want to give away too much of the story line, but suffice to say that it ends on a high note and I am itching, yes itching to read the third installment – Requiem and I cannot wait!
What did you think?
---