Fancy something free on a Monday? Just to get your week off to a great start? Well, here is your chance!
The Book Club Blog has one copy of The Angina Monologues by Rosamund Kendal to give away to one lucky South African reader. If you read The Karma Suture then you Must read this:
In The Angina Monologues three female medical interns from vastly different backgrounds are sent to a rural KZN hospital where gang assassinations and rogue snakes are facts of life and AIDS simply does not exist.
Pampered, spoilt Rachel struggles to establish her independence and learns to love across the cultural divide. Conservative, beautiful Seema struggles to end a relationship that has become increasingly abusive. And street-savvy Nomsa finally learns to accept a past she has spent a lifetime denying.
This is the story of three women finding courage, love and compassion in the most unlikely places. Like its bestselling predecessor,The Karma Suture, The Angina Monologues brings readers face to face with what it takes to be woman doctor in the New South Africa without losing your soul.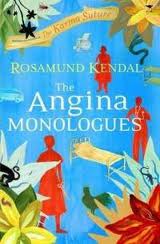 What do you need to do to win yourself your very own copy?
*  Leave us a comment saying hi!
* Tweet about it @thebookclubblog and follow us on twitter (just click on the twitter button and the top of the home page) (+1)
*  Like us on Facebook and Facebook the giveaway (+1)
Easy Peasy as my daughter would say!
Give away ends on Monday 18th March. Your book will be posted to you so please make sure you have a valid postal address.
Happy Monday!
---
One Response to "A Monday Give Away"