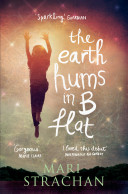 I bought this book with my Christmas Book Voucher from Exclusive Books. I loved the name of the book and after reading the first page, I was hooked.
Gwenni Morgan is not like any other girl in this small Welsh town. Inquisitive, bookish and full of spirit, she can fly in her sleep and loves playing detective. So when a neighbour mysteriously vanishes, and no one seems to be asking the right questions, Gwenni decides to conduct her own investigation. Mari Strachan's unforgettable novel was one of the most acclaimed and successful debuts of 2009. It is a heart-breaking and hugely enjoyable story.
Heart breaking is an under statement. At times in this novel, I felt like my heart was being squeezed when reading how Gwenni's mother treated her, it all comes to a fore at the end of the story and sort of makes sense, but as a mother myself, there were times when I wanted to knock some sense into the woman.
Gwenni is a lovely child, a child, full of wonder and what makes a child so very beautiful and innocent and joyful and I loved this character. This is an easy albeit a little of a slow read, but I can promise that it is very worth the small amount of effort that you may require to get started.
Have you read it?
Do you agree with my thoughts?
The Earth Hums in B Flat - Mari Strachan

,
---