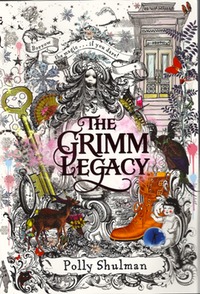 I found this book in Exclusives and it appealed to my rather eclectic reading tastes. Yes, I am a fan of children's fiction and especially where there is magic concerned;-)
I have to admit that it didn't quite reach my expectations of what it would be like. It was enjoyable and very readable and defininitely more for children age 9 – 12 (possible a little younger even). It had adventure and magic and was easy to read, but for me there was something missing. I can't quite put my finger on it.  Maybe it was just because it is aimed at a younger reader?
What is it about?  The Blurb on the back cover:
Elizabeth's new after-school job is very unusual. The building where she works might not look very interesting but behind this ordinary Manhattan facade lurks a very special place indeed. Because here you can borrow anything that your heart desires… And in the basement is something so special, so secret, that Elizabeth can't believe her eyes.
THE GRIMM COLLECTION.
Powerful and mysterious items that must be kept safe and can't be lent out to just anyone. So when these object start disappearing Elizabeth must investigate. But who can she trust? One way or another she has to find out who is stealing from the Grimm Collection… and for what purposes.
I think this would appeal to younger readers as the writing is easy to understand and not too deep.
Have you read it? What did you think?
---