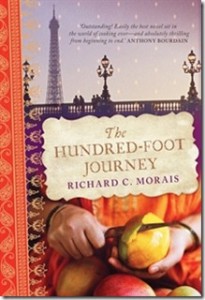 Oh my hat, what a delicious book this was!
I received it via the Book Blogger Secret Santa from bookshistoryandtravel.blogspot.de and she hit the nail on the head for her choice in books. I Loved it!
What is it about?
Hassan is born and raised in India in the kitchen, where his family has a restaurant. Surrounded by food and smells of India, Hassan has an inate ability to know how to cook food. When tragedy strikes the family leaves India and start a journey of eating around the world, finally settling in Lumiere in France.
And so begins Hassan's journey from Indian cooking to French cooking, a hundred foot journey to be precise but yet so much longer than that.
This novel is about family, adventure, leaving the safety net of home and embracing change, and food. Much food. In fact, don't be reading this book hungry because you will be ravenous within a couple of pages…
Have you read it? What did you think?
---
One Response to "The Hundred Foot Journey by Richard Morais"