Yes, it is that time of year again! It is time for the Literary Blog Hop hosted by leeswammes.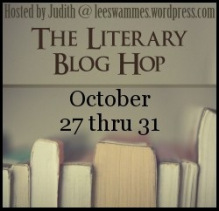 You can hop over  to 50 different book blogs, all offering one or more giveaways of books or bookish items. All books will be literary (non)fiction or something close to that. Follow the links at the bottom of this post to find the other participating blogs. The blog hop will be running from the 27 October until the 31st October. The winner will be chosen by random.org or by pulling a name out of a hat and will be announced on the 2 November. The winner will be contacted via email and if there is no response within 3 days another winner will be chosen.
So, what can you win??
I have chosen three books which I have read over the last few years, which I really enjoyed. I hope one of them tickles your fancy too…!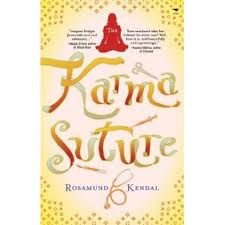 One of my favourite South African authors Rosamund Kendal with Karma Suture
Sue Carey is a driven, twenty-something doctor struggling to preserve her sanity, sobriety and humanity in the corridors of one of Cape Town's biggest public hospitals. Finding imaginative ways of saving patients is her life's work. Finding a man who wants more than a one-night stand would be nice as well. Sue's journey of self-discovery is both harrowing and hilarious. The Karma Suture visits the bedsides of the patients who make her weep and the men who make her weak. She discovers that all she ever wanted is waiting for her … if only she can learn to see beyond the hard science into the mysteries of the heart.
Karma Suture is a uniquely South African story about pain, sex, love, and hope that could only be written by a doctor who has been there and lived to tell the tale.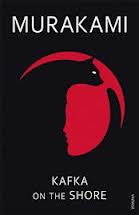 One of my all time favourite Murakami novels – Kafka on the Shore
Kafka on the Shore follows the fortunes of two remarkable characters. Kafka Tamura runs away from home at fifteen, under the shadow of his father's dark prophesy. The aging Nakata, tracker of lost cats, who never recovered from a bizarre childhood affliction, finds his pleasantly simplified life suddenly turned upside down. Their parallel odysseys are enriched throughout by vivid accomplices and mesmerising dramas. Cats converse with people; fish tumble from the sky; a ghostlike pimp deploys a Hegel-spouting girl of the night; a forest harbours soldiers apparently un-aged since WWII. There is a savage killing, but the identity of both victim and killer is a riddle. Murakami's novel is at once a classic quest, but it is also a bold exploration of mythic and contemporary taboos, of patricide, of mother-love, of sister-love. Above all it is an entertainment of a very high order. (from Kalahari.net)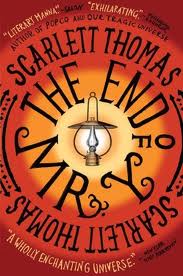 Scarlett Thomas books are enchanting novels, this -The End of Mr Y- is one of my favourites by her
When Ariel Manto uncovers a copy of The End of Mr. Y in a second-hand bookshop, she can't believe her eyes. She knows enough about its author, the outlandish Victorian scientist Thomas Lumas, to know that copies are exceedingly rare. And, some say, cursed.With Mr. Y under her arm, Ariel finds herself thrust into a thrilling adventure of love, sex, death and time-travel. (from Kalahari.net)
OR
A BOOK OF YOUR CHOICE UP TO THE VALUE OF $15 FROM BOOK DEPOSITORY (just check if they deliver to your country)
 What do you need to do in order to win a copy of your choice out of these books is:
1) Tell us which book you would like to win and WHY it appeals to you. (please note that this must be part of your comment otherwise it will be disqualified as an entry) Same goes for if you are choosing your own!
2) Together with no 2 please tell us ONE (or more if you can't decide) book that you have thoroughly enjoyed this year that you would describe as 'you have to read this!' (required)
3) Please leave an email address so that we can contact you if you are the winner (required)
4)Like us on Facebook (additional entry)
5) Follow us on Twitter  (additional entry)
If you already follow us on Facebook and Twitter, please say so in your comment, so we can put your additional entries into the give away.
Please note that all books are also available as e books (for South Africa ONLY) otherwise it will be a paper copy sent via snail mail worldwide.
So, HAPPY HOPPING and get commenting, Here's hoping we all win a book or two!