with a difference.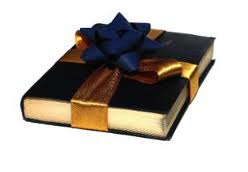 I originally had this idea after participating in Laura's gift swop which I am sure that whoever joined in, loved the anticipation of receiving a parcel in the post and the suspense of what Might be in the parcel was just as lovely as the receiving of the gift. I also thoroughly enjoyed deciding on What to put in the parcel for someone that I had never met, though trying to pick the perfect gift was  a lot harder than if it was for someone you knew.
Anyway, as you can clearly see, I loved it and so I have decided to do something similar here. But this time we will know what the gift will be, it will be a book. But not just any book (buying a book for someone you know can be difficult in itself, but for a stranger, a whole lot more challenging!)
So, here's the deal. The book that you send as a gift MUST be your favourite all time novel. And we wont be pairing people up either, basically how it will work is:
1)You leave a comment stating wether you are willing to post internationally or  not, just put in brackets – (INT) OR (NOT INT) together with your name and email so we can contact you. Your commenting automatically places you as a participant.
2) The person who comments next will receive your favourite book in the post – PLEASE don't tell us what it is, that at least will be a surprise!
3)So, it doesn't matter if there is an odd amount of people taking part because each commenter will receive a book from the previous commenter. The last commenter will send a book gift to the first commenter.
4) Anyone can participate, you do not need to have a blog, just a postal address and email in order to contact you and let you know the details  of the person you are sending it to.
5) You must be committed to participating if you leave a comment
6) The closing date for all comments will be on the 25th October and you will have two weeks to send your book out. All books must  be posted by the very latest on the 8th November. If you are posting internationally, all books MUST be posted by the 1st November.
7) This way, everyone gets a book that is at least one persons favourite favourite. You may not have read it before or even know the author,but this in itself is a gift as you may discover something you have never heard of before.
8) Books DO NOT need to be new, gently read and second hand is great, but please ensure that it is still in a good reading condition. There is something pleasant about reading a book that has already been read, but not if it is in terrible condition!
9) Spread the word and get commenting. Everyone will receive the details of who they need to post to by 12am 26th October.
10) Last of all, have fun!!
---
14 Responses to "A Bookish Gift Swap…"