If you are anything like me and have a love of recipe books then this one is for you!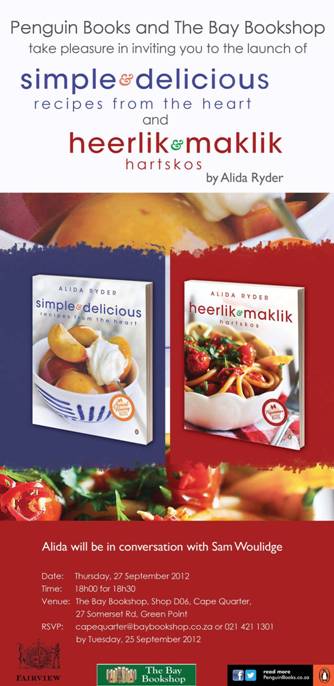 About the book:
Simple & Delicious is a collection of recipes from the heart. These are dishes which Alida Ryder – a food stylist, photographer, blogger and busy mother of twins – serves to her family. Sometimes it's something fancy and a little tricky, but most often it's simple, honest food created with a big dose of love and enthusiasm and a pinch or two of creativity and curiosity. Recipes from the heart.
Alida Ryder won the 2012 South African Food Blog of the Year Award for her blog Simply Delicious (simply-delicious.co.za) and if you haven't yet visited her blog, I would highly recommend it, it is awesome! I have in fact, tried out a few of her recipes and they were indeed simple and delicious.
I am pleased to announce the Alida will be launching her book on Thursday 27 October and YOU are invited!
Where: The Bay Bookshop, Cape Quarter, 27 Somerset Rd, Green Point
When: Thursday 27 September 2012
Time: 18h00 for 18h30
RSVP: capequarter@baybookshop.co.za or 021 421 1301 by Tuesday 25 September