The blog hop, which is being hosted by Judith at Leeswarmes, is open from June 25th to June 29th and I have two books to be given away and both internationally! So, you get to choose your title and because there is nothing nicer that receiving a gift in the post, I am throwing in a book mark too.
There are many other book bloggers who are taking part in this blog hop so if you fancy your chances of winning yourself a book, take a blog hop around, you will find a list of the participating bloggers at the end of this post,  you never know, you may just find yourself a fabulous new blog to read as well.
So, without any further ado, the first book I am giving away is… drum roll please…
HAVE A LITTLE FAITH – MITCH ALBOM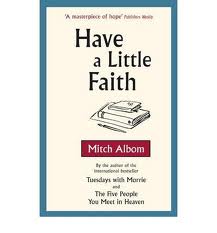 I recently read this book and it is a nugget of a book. In fact, any of Mitch Alboms books are little gold nuggets.
I particularly enjoyed this book as it is a true story, his first non fiction book since Tuesdays with Morrie and the story begins with and unusual request: an 82-year-old rabbi from Albom's old hometown asks him to deliver his eulogy.
This book is about a life's purpose; about losing belief and finding it again; about the divine spark inside us all. It is one man's journey, but it is everyone's story.
A beautiful poignant story which even the most hardened atheist would enjoy!
I also have a copy of… another drum roll please…
THE PENELOPIAD-MARGARET ATWOOD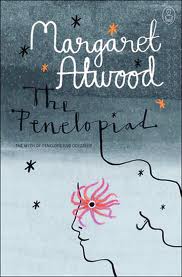 I really enjoyed the retelling of the myth of Penelope and think that it should be one book that everyone should read, hence my reason for adding it to the literary giveaway blog hop.
"Now that all the others have run out of air, it's my turn to do  a little story-making."
In Homer's account in The Odyssey, Penelope – wife of Odysseus and cousin of the beautiful Helen of Troy – is portrayed as the quintessential faithful wife, her story a salutary lesson through the ages. Left alone for twenty years when Odysseus goes off to fight in the Trojan war after the abduction of Helen, Penelope manages, in the face of scandalous rumours, to maintain the kingdom of Ithaca, bring up her wayward son, and keep over a hundred suitors at bay, simultaneously. When Odysseus finally comes home after enduring hardships, overcoming monsters and sleeping with goddesses, he kills her suitors and – curiously – twelve of her maids.
In a splendid contemporary twist to the ancient story, Margaret Atwood has chosen to give the telling of it to Penelope and to her twelve hanged Maids, asking: 'What led to the hanging of the maids, and what was Penelope really up to?'. In Atwood's dazzling, playful retelling, the story becomes as wise and compassionate as it is haunting, and as wildly entertaining as it is disturbing. With wit and verve, drawing on the storytelling and poetic talent for which she herself is renowned, she gives Penelope new life and reality – and sets out to provide an answer to an ancient mystery.
All you need to do to enter this give away is to
a) like us on Facebook
b) follow us on Twitter and tweet about this give away (let us know when you have tweeted about it)
c) tell me which book you would like to win and why in the comments section.
If you do all three that gives you three chances to win! Nothing like making it extra easy, now is there??
So, go on, tweet, facebook and blog hop to your hearts content, it is weekend after all!
And on the morning of the 30th I will notify the winners.
List with all the Participants: