I love reading memoirs, especially about interesting adventures and Karin Cronjes' There Goes English Teacher did not disappoint.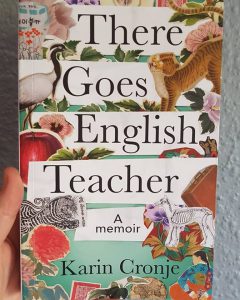 When  Modjaji Books asked me which book I would like to review, I was torn because all the titles sounded interesting and unique (La Bastarda- Trifonia Melibea Obono,  A Person my colour – Martina Dahlmans) but I chose this one after hearing good things.
I have to be honest when I say I was expecting something as bright and cheery as it's cover, but alas, while it had it's funny moments, this was a candid look at the reality of life. This was a story about change, and how to let go. A mother's journey. The descent into despair,  a writers quest,  and the question of sex after 50.
It's about teaching English in Korea, and the children who are taught. But this book is so much more than that.  This is about packing up, leaving a life behind and making a new one.
Karin deals candidly with sadness, and madness. And how a midlife crisis can cause havoc to one's centre of gravity. This was a journey about taking her power back. How to mother differently, her grown up son.  This was also a writer's journey and how the writing played out( and how it did not) when she allowed herself to listen to the characters, (even when she really didn't want to). As an author-in-progress myself I particularly enjoyed this element to the book as it showed that we are all at the mercy of our characters, and our processes. There is no forcing something which is not ready to be finished. It takes as long as it takes.  In my writing course with Joanne Fedler, she mentions that 'What shows up in life shows up in the writing'  and this book was a perfect example of that.
The writing was interesting,  and while the author played with both first and third person accounts, which lead to a couple of confusing moments when I wondered who she was talking about, I soon picked it up and enjoyed the contrast.  And, how it reflected the life she was living back to us, the reader.
I loved the conflict of cultures, the language barriers, the heritage differences, yet even then, friendships were formed. It was these that made her journey bearable, which showed that it doesn't matter where you come from, connection to others is just as important as connection to self. But, so is letting go of friendships which no longer serve you. And of change. How we may change, but others do not and what to do with that.
This midlife memoir was a rollercoaster ride yet such a refreshing book to read.  I highly recommend reading it. If you are still needing gifts for the season, this would make an excellent gift and you can purchase your copy here.
But, I would love to pass on the love by sharing my review copy with one lucky reader of this blog. What do you need to do?
: Tell me if you could teach English anywhere in the world where would you go?
: Once you have read it, leave a review on Goodreads or Amazon.
Leave your name, answer and email address in the comments and I will do a lucky draw this Friday 7th December and post it on Monday 10th December via the post office. Only open to SA unfortunately.
Happy Reading!