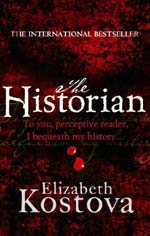 Ok, so after our bookraiser post, thought it would be nice to have a review of a slightly different book… Have any of you read it? What did you think of it? Did you find it too long or just the right length? Did you enjoy it? I would love to hear from any of you that have read it, or plan to read it, or hated it…
The Historian by Elizabeth Kostova is a brilliant book. It is a historical novel about Dracula. It is eerie and fascinating and a page turner and a half!
I have to be honest, again, I couldn't read this book at night time, it gave me goosey pimples so I kept this in my daytime reading schedule. It was while I was doing care work in the UK so I had daytime reading hours to spare, and I hated having to put it down to do actual work!
It is pacy and intriguing and full of wonder.
This is taken from Wikipedia:
The Historian has been described as a combination of genres, including Gothic novel, adventure novel, detective fiction,travelogue, postmodern historical novel, epistolary epic, and historical thriller. Kostova was intent on writing a serious work of literature and saw herself as an inheritor of the Victorian style. Although based on Bram Stoker's Dracula, The Historian is not a horror novel, but rather an eerie tale. It is concerned with history's role in society and representation in books, as well as the nature of good and evil. As Kostova explains, "Dracula is a metaphor for the evil that is so hard to undo in history."The evils brought about by religious conflict are a particular theme, and the novel explores the relationship between the ChristianWest and the Islamic East.
The book begins like this:
"To you, perceptive reader, I bequeath my history…."
Late one night, exploring her father's library, a young woman finds an ancient book and a cache of yellowing letters. The letters are all addressed to "My dear and unfortunate successor," and they plunge her into a world she never dreamed of—a labyrinth where the secrets of her father's past and her mother's mysterious fate connect to an inconceivable evil hidden in the depths of history.
The letters provide links to one of the darkest powers that humanity has ever known—and to a centuries-long quest to find the source of that darkness and wipe it out. It is a quest for the truth about Vlad the Impaler, the medieval ruler whose barbarous reign formed the basis of the legend of Dracula. Generations of historians have risked their reputations, their sanity, and even their lives to learn the truth about Vlad the Impaler and Dracula. Now one young woman must decide whether to take up this quest herself—to follow her father in a hunt that nearly brought him to ruin years ago, when he was a vibrant young scholar and her mother was still alive.
This is a thought provoking first novel and what I mostly enjoyed about it was the historical references combined with the young lady in the present.
Give it a go, you may enjoy it…
---
One Response to "The Historian – Elizabeth Kostova"