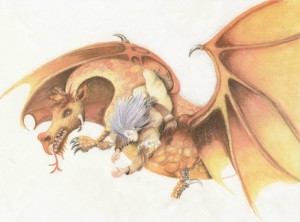 Quenelda rescuing Darcy
So, it has been a little while since we have had an author interview over here at Book Club,but fret not, my dear readers, this little issue has been rectified  and today I would like to introduce to you: Lucinda Hare!
She is the well known children's  author of the first book in the Dragonsdome Chronicles –  'The Dragon Whisperer' -(and if you haven't yet  read the review, kindly sent in by Daniella who is 12 – almost 13, you can head on over here to get the lowdown on the book) who, although she is an international author, has lived in Cape Town and Johannesburg.  She is a lovely lady, who draws beautiful illustrations as you can see with the two pictures featured on this post and I am so pleased that she is visiting us here at Book Club.
So, lets get to it, here are the questions that Daniella and myself put together to find out more about Lucinda and her books. Enjoy!
1)  What inspired you to write 'The Dragon Whisperer'?
Quite simply because I love children and I don't have a family of my own to share my imagination with. By writing The Dragonsdome Chronicles I am coming into contact with children all over the world and I love that. I make time to respond to each and every one.
2)  In the book, Quenalda clearly has a passion for dragons. Do you share her passion, but for animals?
I have a passion for all animals from spiders and earwigs to elephants.  We have a large family of rescued dogs, cats, rabbits, guinea pigs and ex-battery hens – mostly animals who are old, ill or have been abandoned, neglected or been badly treated. They bring a great deal of love and peace into our lives.  We also have a great deal of wildlife in our garden which borders a river. There are tawny owls, deer, fox, buzzards, heron, moorhens, and a very social rookery in the woods behind. Animals provide the inspiration behind my dragon characters; even the baddies – the hobgoblins – are based on frogs and great white sharks.
3)  What types of books do you enjoy reading?
I enjoy a very wide range of books from graphic comics to history books to novels. We have a house full of books from top to bottom.
4)   As an author, what would your advice be to someone wanting to write a children's novel?
I think to be an author you have to have an imagination; you have to have a story to tell.  You can learn how to write but not what to write.  You either have an imagination or you don't. Imagination is the true magic in real life, and children have bucket loads of it.
5)  What were your favourite books as a child?
The first book I remember loving was The Hound of the Baskervilles by Arthur Conan Doyle which is one of the more scary Sherlock Holmes stories.  In my early teens my parents introduced me to Dorothy Dunnet.  But the one book that I loved beyond all others and still do, is the Lord of the Rings, which combines my passions for history, myth, legend, and day dreaming!
6)  What inspired you to write children's  fantasy?
I have always had an overactive imagination and been creatively inclined, so possibly there were always stories to tell, but until recently they have been mostly expressed through drawing and illustration.  We have huge Halloween, Christmas and fireworks parties, and I create anything from large wool spider's webs, to glass painting on the lounge window of all our animals or witches and cauldrons.  But it was only fairly recently that my husband Paul gave me the opportunity and time needed to turn my hand to writing (which also allows me to spend all day with our animals and each other).
Writing the Dragonsdome Chronicles also gives expression to my passion for history, animals and respect for our armed forces.  I wanted to set my book against a backdrop of war because that is the reality for so many children.
The dragons in my books take the place of  Chinook and Apache helicopters, F22 Raptor stealth fighters and Harrier jump jets. The SDS regiments are modelled upon our real life Special Air Service regiments; the SAS; and the Bonecrackers on our marines and commandos.  Another reason is that I see Quenelda, Tangnost, Root and their dragons as a way of promoting responsible pet/animal ownership and welfare.
7)  Do you have a favourite fantasy novel/author or series?
I love Memory, Sorrow & Thorn by Tad Williams, and the first three books of Steven Erikson's: Tales of the Malazan Book of the Fallen.  I also love Robin Hobb's three trilogies and The Edge Chronicles by Stewart and Riddel.
8)  What authors would you most like to have around your dinner table and if you could ask them one question, what would it be?
I know it's impossible, but JRR Tolkien would be my first choice.  I would ask him if he ever imagined he would captivate half the world with his writing.
9)  How many books are  you planning for the Dragonsdome Chronicles?
I am hoping six.  Book two, Flight to Dragon Isle, is written pending a final edit, and I have made a start on Dragon Lords Rising with an outline structure for book four:  A Storm of Dragons.  Flight to Dragon Isle will be published by Random House Children's Books in spring 2011.
My website is: http://www.dragonsdome.co.uk
To help me keep in touch with fans as actively as possible, I have started a blog at: http://thedragonwhispererdiaries.blogspot.com and, having spent a year and a half in Johannesburg and Cape Town after I graduated, I would love to hear from South African readers.  At some point I hope to visit again.  This time I might get to the Drakensberg Mountains, and the Kruger National Park.
Thank you, Lucinda, it was fabulous to have you over at The Book Club Blog, and for those of you who haven't read this book yet, best you get your paws on a copy and get reading!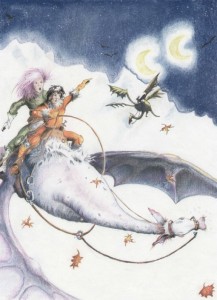 Chasing the stars:  I can fly!

---
2 Responses to "International Children's Author interviewed here at The Book Club Blog"