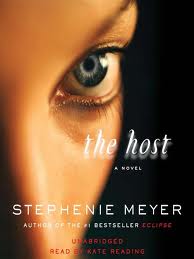 Stephenie Meyer does it again!
How on earth she manages to write such extremely readable books, I have no idea.
The Host is her first book, but I have to admit to not wanting to read it because I thought that after her Twilight series, her first book couldn't be half as good.  I admit, I was wrong. In fact, if I had read this first, I probably wouldn't have taken so long to read the Twilight books;-)
The story is far from vampires, but it  does contain aliens on earth. The souls are brought to earth and implanted into a host body, which are humans to you and I, and the host body is then subdued by the soul. The reason why they are doing this implantation is because of the violence on earth and it is now a peaceful place where there is no competition and murder and killing.
Melanie is the host body to a soul called Wanderer, but when Wanderer wakes up in Melanie's body, she is not so easy to subdue. And here starts the story of two different souls in one body. Melanie's dreams are vivid for Wanderer and slowly she becomes enmeshed between the emotions and desires of Melanie and goes off track from her 'mission' on earth.
The premise of this book is quite interesting and I have to admit that I thoroughly enjoyed it.
If you enjoyed the Twilight series (the books not the movies) then head on over to your local book shop and get yourself a copy. i don't think you'll be disappointed. I sure wasn't!
---
One Response to "Book review – The Host"