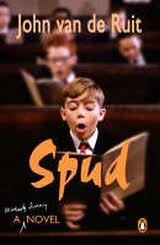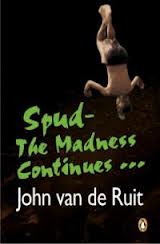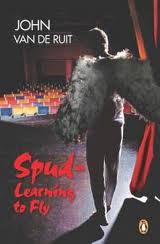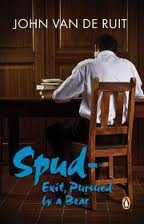 If you haven't yet heard of the Spud books, never mind read them, then you are missing out on a seriously funny series.
If you were like me, thinking, nah, the series isn't for me, I am not really interested in a 'boys boarding school' book then you would be (mostly) wrong.
If you have seen the movie but haven't read the book,then do yourself a favor and read the book (at least the first one, which will get you hooked and you will then have to read the next three)
If you don't believe me, ask your friends if they have read it…!
I thoroughly enjoyed these books, but really only got into them when a friend of mine had borrowed her brothers copy, read it and then passed it onto me as I really thought I wouldn't enjoy it. I could not put it down, and then went and found the second one from the library and bought the third and fourth one. Luckily for me, I only read them all a few months ago, so I didn't have too long a wait for the final installment, which was great for me, not so great for everyone else who has been waiting with eager anticipation for the final book. Which let me tell you, does not disappoint!
The Lowdown of Spud:
It's South Africa, 1990. The country still squirms under the iron fist of apartheid. Two major events are about to happen: The release of Nelson Mandela, and more importantly, it's Spud Milton's first year at an elite boys only private boarding school. Cursed with parents from well beyond the lunatic fringe, a senile granny, and a dormitory full of strange characters, Spud has to forge a new life for himself in this foreign and sometimes hostile environment. Surrounded by names such as Gecko, Rambo, Rain Man and Mad Dog, Spud takes his first tentative steps along the path towards manhood. (The path, it seems, could be a rather long road.) Armed with only his wits and his diary, Spud takes us from illegal nightswimming to the cricket field, from ghostbusting to teacher baiting. He also invites us into the mind of a boy struggling to come to terms with a strange new world; a boy whose eyes are being opened to love, friendship and complete insanity.
And thats just the first one…. Truly is a delightful series of books, moving and funny, well, hilarious in parts, and completely true to life, loved it!
So, go on then, have you read it?Or even watched the movie? I haven't seen the movie, but have put it on my TBW list…
And if you have read them, have you perused John van der Ruit's blog? Go here if you haven't, quite delightful!
---
3 Responses to "Spud – the series"