Jackie Cameron Cooks at Home, One of my new favourite cookbooks at the moment… check out my review here. I promise you won't be disappointed with this cook book…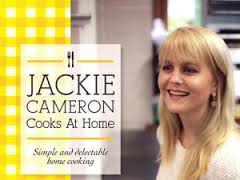 Thanks Jackie for doing a Q&A with The Book Club Blog!
1) In a market that is saturated with cookbooks, what do you think makes yours unique?
I find a lot of recipe books out there are trying to prove to the world that the authors are extremely creative and know about food.  So they are doing items that impress on paper so a stew fruit with a rose syrup this and a lavender essence that…in my book you find a delicious STEW FRUIT just how my grandmother would make.  No bells and whistles just great flavours.  I am not trying to prove to the world that I can cook (I am confident in this fact) I'm merely trying to help the house-cook to improve their day-to-day cooking.  To bring the how-to recipe book filled with recipes that work.  I truly believe if people are cooking better at home they will expect a higher level of food in restaurants and in-turn the entire level of food will step up.
2) What made you decide to write a cookbook?
Why not…I wanted to do one by the age of 30-I just wanted that!  I started writing my Witness Newspaper column years ago as a base to work off.  It was all aligning me in understanding the basics in recipe writing, development and truly what people enjoy cooking.  The more comments I get the more popular I feel the recipe.  With everything I do there is normally a very well thought through process of which I go through to ensure I can make the most out of the situation I throw myself into.
3) Clearly a food lover, your book "Jackie Cameron Cooks At Home' has some lovely recipes for an aspiring foodie, what is your favourite recipe from your book and why?
This is like asking a parent which child is his or her favourite.  Every recipe in the book I have a connection with and a little story to go with it…all are very special in one or other way.
4) What is your favourite memory associated with food and why?
Most of my foodie-memories are around childhood happiness around a kitchen or dining room table.
5) Because this is a book blog interview, what books do you like to read when you are not cooking?
I am always reading something foodie if the time allows.  Always trying to learn and improve the knowledge of which I have.  From recipe books to memoirs.
6) Do you have a favourite author?
Any foodie author…Thomas Keller's recipe books to Gordan Ramsey's memoirs to Anthony Bourdain-Kitchen confidential.  All must reads of which I can learn and gain from reading.
7) Who are your foodie inspirations?
I am inspired not only by the world-class chefs out-there but also by the environment I live and the people I work with.
8) What is the weirdest thing that you have a) cooked and b) eaten?
Mapani worms.  I cooked these for a South African celebration event in Prague.  Not ideal.
9) What to you do in your 'off' time?
Off time…what is that? ; ) There is nothing better than going to Pennington on the South Coast, were we have a cottage, and just chilling.
10) Tell us one thing about yourself that is not public knowledge.
That is difficult as I am pretty-open.  I am looking into getting a pet-pig as I think this will be wonderfully different.  Imagine walking a pig!  My pig can enjoy all our kitchen leftovers…I hate waste ; )  We shall see many people are steering me against this.
Thank you for doing an interview with The Book Club Blog.  I love your cook book and will be trying out your chocolate chip cookies and corn fritters this week.
Wonderful, I am so so so sorry for the delay.  Things have been crazy!Thanks so very much for asking me to do this.  Your support is appreciated!  Hope you enjoyed the cookies and corn fritters ; )
Yes, Jackie, the cookies were delicious and the fritters are now a weekly regular round at our house!
---