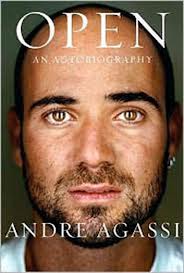 I could not put this book down! Beautifully written, it opened my eyes to this one mans talent. Gave me new respect for tennis players and has my hooked on reading more about other players to see how their tennis journeys compared with his.
I remember Agassi when he won Wimbledon, I was in high school and I thought he was the bees knees! I don't think I have ever watched Wimbledon in quite the same way ever again, blame it on my teenage hormones if you must;-) But to have read this book, really was brilliant, he was quite a tortured man. To think of doing something that you hate because you have to, I think many people in the world live like that, just maybe not quite so publicly.
I love that he eventually met and married Steffi Graf, I love how supportive she was of him and his career, and how she stood by him through both the ups and downs. I think that they must have  a truly awesome marriage.
I found this book quite reminiscent of The Battle Hymn of the Tiger Mother by Amy Chua in how Andre's father was quite the tiger. Forcing not only one of his children but all of them into tennis because it was what he wanted. I am glad that all of them figured themselves out in the end though and became who they were meant to be without force. The fact, that there was no kindness in all of the forcing just makes me realise , again,what an important job we have as parents. I wouldn't wish his father on anyone.
Have you read it? What did you think?
---