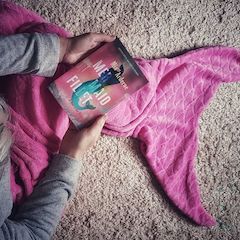 Mermaid Fillet by Mia Alderne
There is no easy way to review this book as it was unlike anything I have ever read before but I'm going to do my best. Straight up, I have to admit I needed to google the meaning of some of the words.
Mermaid Fillet is a brilliant book. It is uniquely Capetonian set mostly in the Northern Suburbs. It is also not an easy read. It is violent. It portrays gangsterism. It shows something so close to home, at times it's uncomfortable to read. I loved how the characters were depicted. It felt authentic and real even amidst the touches of feminist magical realism. The writing is lyrical, poetic at times, and hits you right in the gut.
I loved that the author used a mix of English, Afrikaans and (-to me-) Cape Flats slang. My google search took me to Durban so I can assume it is more South African Slang and not exclusive to the Cape Flats. The chapters are short, and the story hops between time lines. Instead of confusing the reader, it shows us how everyone is interlinked. The backstories, while hardcore, enlighten us as to the whys.
This is a book that is both interesting, unique, and while it may not be for everyone, it deserves to be read by as many people as possible, and when you do, PLEASE get in touch so we can chat about it! (Exclamation deserved.)
Thank you to NB Publishers for a review copy of this book in exchange for an honest review.
It is available NOW at all good bookstores near you.
You can support both the author and the book on instagram and facebook.
---