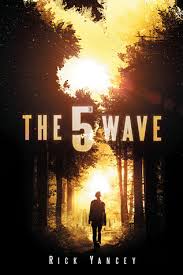 Thank you Penguin Books SA for sending me a copy of this book!
What is it about?
After the 1st wave, only darkness remains. After the 2nd, only the lucky escape. And after the 3rd, only the unlucky survive. After the 4th wave, only one rule applies: trust no one. Now, it's the dawn of the 5th wave. On a lonely stretch of highway, Cassie runs from Them. The beings who only look human, who roam the countryside killing anyone they see. Who have scattered Earth's last survivors. To stay alone is to stay alive, until Cassie meets Evan Walker. Beguiling and mysterious, Evan may be her only hope for rescuing her brother and even saving herself. Now she must choose: between trust and despair, between defiance and surrender, between life and death. To give up or to get up.
Is it worth reading?
I have to admit to enjoying it so yes, read it! There were some moments in the book which were a bit annoying and too cliched but I enjoyed the story line. It is a novel about aliens taking over the world, (but luckily this cliche is more believable than most and does't have your usual green, one eyed beings portrayed as aliens,in this story, you don't know who the aliens are which makes it that much more scary and believable) and about trust, and in a world where you really don't know who you can trust any more, the nature of friendship and what gets me every time, children. It always gets my soft spot when I read about children and how they have to grow up and loose their innocence before their time.
The only thing I didn't really like about the book was the ending, but I think it is done in the way that is has been so there is a possibility for a sequel. Which is not necessarily a bad thing!
I liked the characters and I liked how that the fact that they were children is a vital part of the story. So, give it a go, and even if you don't usually read these sorts of books, I think this is an easy and quick read and compelling enough to have you continue reading…
Have you read it? What did you think?
And if you have read it and enjoyed it and fancy more from him, here is his website, where I have discovered that he has many more books to read!
---