I popped down to the library on Saturday morning and got myself some books to read. I am still currently reading The Golem and the Djinni by Helen Wecker on my ereader and loving it but considering Im halfway in, Im going to need something to read again soon. This is what I have lined up.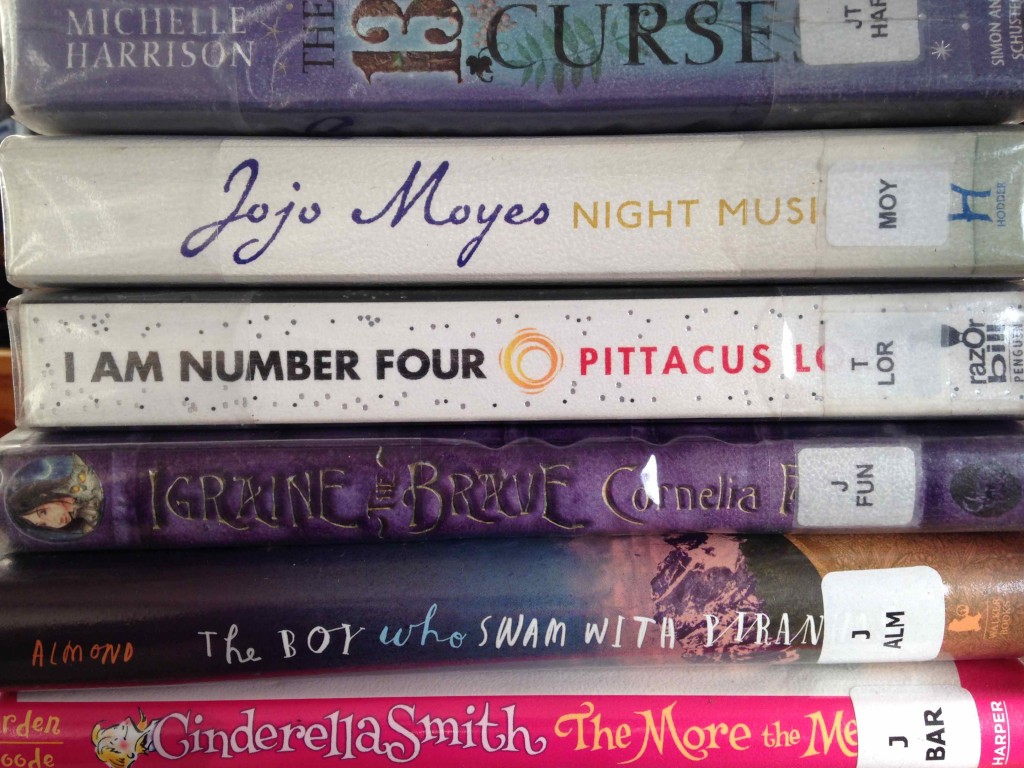 This loot of books is a batch of children's books, yes I do enjoy reading them, its a nice break…
The 13 Curses – Michelle Harrison
When fairies stole her brother, Red vowed to get him back. Now trapped in the fairy realm, she strikes a bargain with the fairy court: her brother in exchange for all thirteen charms from her friend Tanya's bracelet. But as Red sets out on her quest to retrieve the charms, she soon learns that the fairies have done more than hide them — they've enchanted them with the twisted qualities of the Thirteen Treasures they represent. And the longer the charms are missing, the more dangerous they become….
Night Music- Jo Jo Moyes
The Spanish House is a hotch potch of designs, Georgian, Gothic and Moorish, as if whoever started it had simply got bored. It has long been known to locals as an architectural folly, and is now nearly derelict to boot.
When its reclusive owner dies intestate the Spanish House is left to his city-dwelling niece. For Isabel, recently widowed, the house is a potential lifeline – the only hope she has of providing for her two children without having to sell her most treasured possession. But for neighbour Matt McCarthy, the house is revenge – on the family who ruined his father. For his wife it's the key to the perfect family life, while a struggling property developer sees in it a whole new future.
As desires clash and intertwine, lives and loves are demolished – and the Spanish House becomes a true folly indeed . .
I Am Number Four – Pittacus Loew
Nine alien teenagers are hiding on Earth. Three are dead. Number Four is next. This is the launch of a gripping, action-packed series that was the basis for the blockbuster DreamWorks feature film.
Igraine the Brave – Cornelia Funke
Igraine dreams of becoming a famous knight. When the nefarious nephew of the baroness shows up with plans to capture the castle, its up to Igraine to be brave and save the day.
I love Cornelia Funke's book, who read Inkspell??
The Boy Who Swam with Piranhas – David Almond
Stanley Potts is just an ordinary boy, but when all the jobs in Fish Quay disappear his Uncle Ernie develops an extraordinary fascination with canning fish. Suddenly their home is filled with the sound of clanging machinery and the stench of mackerel, and Uncle Ernie's obsession reaches such heights that he would even can Stan's beloved goldfish.
Cinderella Smith -Stephanie Barden
When Cinderella finds out that the winner of her school's spelling bee gets to choose the theme of the class party, she's determined to win. Cinderella's excitement can't be contained, until her onetime friend starts bullying her for no reason.
I actually got this one out for Bean but I think I may be reading it instead….
Then I have the second in The Island Trilogy by Jen Minkman waiting on my ereader.
Oh, how I love books!
---