I loved this book!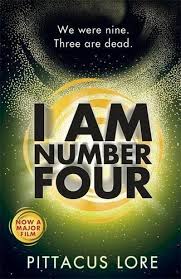 Part of my library loot, it was the first I read out of them and I couldn't put it down! Its a bit like The Hunger Games but with aliens and no games. I enjoyed it so much I went to purchase the second in the series: The Power of Six. I have not yet started reading it as I am still reading The Golem and the Djinni (which I was distracted by reading due to reading this one instead and not much time to read last week).
So, what is it about?
Most of the story is told in the first-person by Number Four, who takes the name John Smith. As the story begins, he and his guardian, Henri, learn of the death of Number Three and move to Paradise, Ohio, assuming new identities. There, John befriends conspiracy theorist Sam Goode and is 'adopted' by a dog identified by its name tag as Bernie Kosar. He also meets and is attracted to a fellow student who is an amateur photographer, Sarah Hart. Sarah's ex-boyfriend, football player Mark James, is a bully who torments both John and Sam.
'John Smith' is an alien who was evacuated from his planet when the Mogadorians destroyed it and now they are also on Earth to destroy this planet too. This is the first in a series written by Pittacus Lore who is a pseudonym for James Frey (author of A Million Little Pieces – awesome book that too) and Jobie Hughes. When I saw that, I completely understood how this book was so readable, as loved A Million Little Pieces, if you haven't yet read it, I would highly recommend it!
This book has also been turned into a movie, which I haven't yet seen and was released last year. Have you seen it?
I am number four is the first in a proposed six part series, and if the story line stays as interesting as the first one, then I think thats great! Have you read this, what did you think? I am hoping that my niece has not yet read it as she will be getting the first three books for Christmas… (Shayne if you are reading this, sssshhhhhhh….)
Happy Monday!
---