I am very pleased to share with you our next author in our author campaign,  Finuala Dowling. I discovered Finuala with her book Homemaking for the Down-At-Heart which I loved. It will forever be one of those books that stay with me because it was set in Kalk Bay, the place I called my home during my teenage years (and one of my favourite places in the world).
A big thanks to NB Publishers for collaborating with me on showcasing a few of our SA women authors, especially during this time of lockdown. This is an easy to read Q&A which I hope you will all enjoy.
Without further ado, I introduce to you,  Finuala Dowling author of Okay Okay Okay.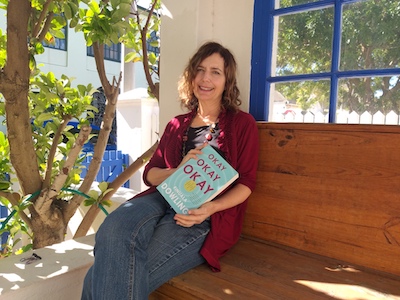 – Do you have a specific routine that you follow when you sit down to write, or are you able to sit and write at any time?
I like to start writing in the morning,  to be sure of several uninterrupted hours ahead.
– What book/s are you currently reading?
I've just finished Patrick Leigh Fermor's Between the Woods and Water, and have moved on to Mavis Gallant's Selected Stories.
– Which SA authors have inspired you in your own writing?
I've been inspired by the strong, uncompromising voices of Olive Schreiner, Bessie Head, Antjie Krog and Ingrid de Kok.
– Did you always have a passion to write a book or did it / they stealthily creep up on you?
When I was younger I wanted to write a book, now I find that there's a book that wants me to write it.
– Which has been your favourite book to write so far?
My first (published) novel was probably the most fun to write. I only had two months to do it in, and I just let rip.
– What were your favourite books as a child?
A Japanese story called 'Three Strong Women', and folk and fairy tales generally. I started on Jane Eyre and Pride and Prejudice when I was twelve or thirteen, and never looked back.
– To date, what is the worst book you have ever read, and why?
There are several contenders, but the one I remember left me irritated, confused and infuriated was The Well of Lost Plots by Jasper Fforde. It's the third in a series, and I hadn't read the other two, which might explain my reaction, but it seemed like the book was just an opportunity for the author to show off. I think writers should disappear behind the story, not stand in front of it waving a flag.
– Do you think SA women writers and authors are treated differently to their male counterparts in the publishing world?
I think sometimes male SA writers are seen as more worthy of literary critical study.
– If there was one piece of advice you could give to aspiring SA authors, what would it be?
Use your first novel to explore a theme or a problem that passionately interests you.
BONUS QUARANTINE QUESTIONS:
– If we weren't in lockdown and you could have any authors around your table for dinner, who would they be and why?
Lyndall Gordon, Ann Tyler, Elizabeth Strout, Michiel Heyns and Damon Galgut – compassionate, empathetic writers with irony.
– What is one item you have either made/ tried/ learn't while being in lockdown, and was it successful?
I confess that lockdown has forced me to get over my antipathy to Skype.  It isn't as bad as I thought it would be.
– While the lockdown was fairly sudden, and our new normal sprang up quickly, what has been a silver lining to you during this time?
The silence that has descended, the uninterrupted hours for writing that have arrived. I no longer wake up feeling threatened about what people will expect from me today. They expect nothing.
– We have all had time to realise that we miss certain things or places during this time, what is yours?
I miss the beach, and bottle stores.
– What is one pet hate in your current situation with who you live with? Be it a partner, child or animal?
I live with my sister and she's stopped drinking whiskey because she knows how much I love it.
Thank you Finuala for keeping us entertained by answering these questions, it was great to get to see the author behind the books. I look forward to reading your new book.
Heres to Week 4 of Quarantine Lockdown, Day 26 in Cape Town. May you all stay safe and well.
---