I am an avid reader, and particularly love to read South African authors. We have some of the best writers in the world, and with them comes a unique vantage point of relatability. For that reason I do believe we need to support and show them off to the rest of the world.  In March it was International Women's month which sparked the idea to kick off a campaign representing our female authors – I had seen a run of great books being published so I contacted NB Publishers with regards to showcasing a selection of authors with their latest books, and with that a collaboration was born.
Please welcome Kirsten Miller, author of All that is Left, to our  SA author Q & A Campaign.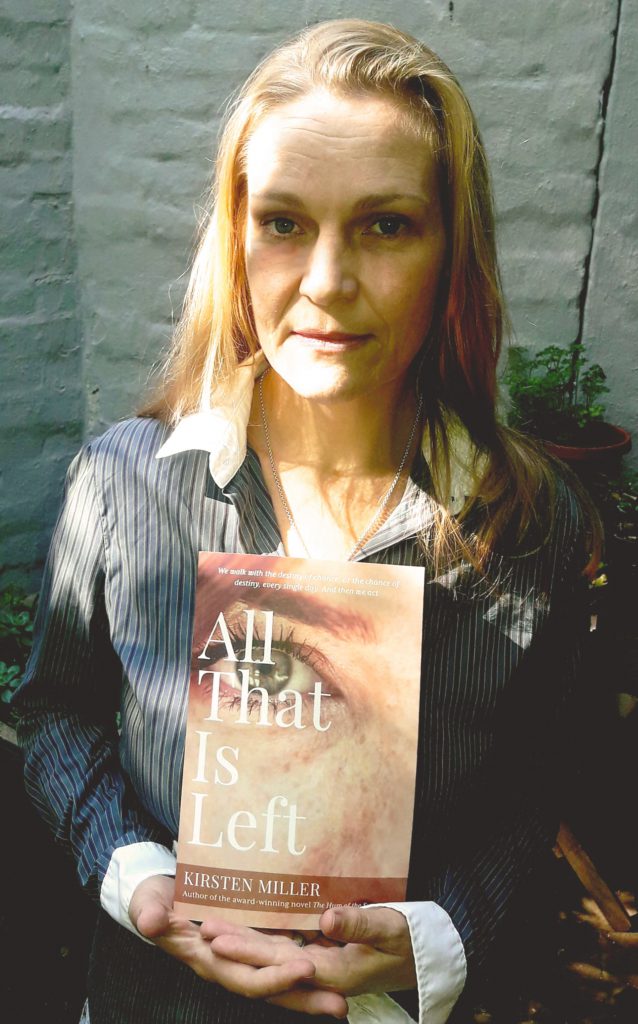 – Do you have a specific routine that you follow when you sit down to write, or are you able to sit and write at any time?
I don't have any writing routine. I can write at any time, in any place, in longhand or at a computer. What I love to do is go down to the river in the nature reserve that is just below the house where I live, and sit on the rocks and free-write. I do my best writing when I'm alone, but solitude is a luxury I don't often have anymore. So I do try to get away by myself when I can – even to a coffee shop or to the beach. I can edit my own work, though, when other people are around, if I have to. It's the initial writing phase that's more difficult for me, if I have the distraction of other people's presence.
– What book/s are you currently reading?
I've just finished Michael Ondaartje's Running in the Family and I'm re-reading Yuval Noah Harari's Homo Deus. I've also just started Orhan Pamuk's Snow. I try to keep a book of fiction and one of non-fiction going at the same time.
– Which SA authors have inspired you in your own writing?
Sello Duiker is probably the South African author whose writing I most admire. I think his body of work over time would have been phenomenal, if it hadn't been too painful for him to continue. One of the most memorable short stories I've ever read was Lidudumalingani Mqombothi's Memories We Lost, for which he won the Caine Prize. That kind of writing inspires me and keeps me reaching for beautiful, quality literature.
– Did you always have a passion to write a book or did it / they stealthily creep up on you?
I always have a book I want to write, but they do all creep up on me. I first tried to write a book when I was seven. When I was fourteen completed a full-length manuscript of a novel. I don't have it anymore and no doubt it was terrible. But writing books is something that I've always felt  motivated or driven to do. I like the process as much as the end goal. For me, writing is not unlike dreaming.
– Which has been your favourite book to write so far?
My previous novel, The Hum of the Sun, published in 2018 by Kwela, has been my favourite book so far. I like the main characters, Ash and Zuko, very much. I spent a focused year on that novel, during which I visited my parents for a couple of weeks. My mother cooked for me and I could just write and didn't have to do anything else, so I had a small window of uninterrupted time. That was a great gift.
– What were your favourite books as a child?
I only realized as an adult how privileged I was that, after food, my mother prioritized books over everything else. I had access to libraries from before I went to school. Some of our best writers in South Africa only stepped into a library for the first time when they were students, or adults, because of the apartheid system. That is such a terrible thing to do to people. I went through various reading stages, depending on my age. When I was very young it was The World of Pooh, The Wind in the Willows and some of the Oz books. Later I had a wonderful book of folk tales called The Potato King that I read repeatedly, and I still have it. I have a Roald Dahl collection, and Danny the Champion of the World was my favourite for a long time. The relationship between Danny and his father captivated me, and a part of me still wants to live in a caravan. There was also a book in our house called Things to Make and Do. I loved paging through it, wishing I could make everything in it. I read JM Coetzee's The Life and Times of Michael K when I was about thirteen or fourteen, and this book fundamentally opened up my awareness of what was going on in my country.
– To date, what is the worst book you have ever read, and why?
I don't have a worst book. If a book isn't doing it for me on either a narrative, character or language level, I get bored and move on. As a consequence I've read so many books but none I consider bad! Life is too short, and there are too many great books to read.
– Do you think SA women writers and authors are treated differently to their male counterparts in the publishing world?
Yes. Not by those in the book publishing industry, but certainly by readers and by the media. The act of reading itself is still so gendered. For so many hundreds of years the presumed reader was always male, and women writers would adopt a male pseudonym. And it persists that women today read books by authors who are men and authors who are women, whereas men primarily read books by other men. I have been called a woman writer a few times by readers in panel discussions and each time it's a jolt, because I have never heard of anyone being addressed as a 'man writer'. I understand that previously marginalised groups such as black writers and women writers need increased representation because of previous and current power imbalances, but I think that's the wrong way to go about it. I would completely support the term 'feminist writer,' for instance, as feminism is an ideology that is chosen and assumed in the sense of being taken on deliberately. Being a woman is out of my control. It's unchosen. I don't think it's fair to separate women from other writers because of it. It only entrenches difference and stereotyping. If we're reading and engaging with texts, we know who the writers are. One can't assume that I have a particular agenda or narrative content because I'm a woman. I'm a writer. A novel writer or a fiction writer. That's it. That's the kind of world I hope we can get to.
– If there was one piece of advice you could give to aspiring SA authors, what would it be?
If you are lucky enough to get comments and feedback when you submit your work, don't be too proud to consider these carefully and keep crafting what you've written. Work for improving quality. Don't underestimate the value of a good story, and the beauty of language. Not only will this improve your own writing, but it will continue to raise the standard of South African literature.
BONUS QUARANTINE QUESTIONS:
– If we weren't in lockdown and you could have any authors around your table for dinner, who would they be and why?
Emanuel Dongala (Johnny Mad Dog) and Mandla Langa (The Texture of Shadows), because I have had conversations with these authors in the past and they have lived through political histories that people forget too easily. I would love to hear more of their stories and their experiences. Maya Angelou (I Know Why the Caged Bird Sings), if she were alive, because of her incredible depth of understanding about being human and to talk about the influence of blues music on her work, and Haruki Murakami (Kafka On The Shore), because I would like to tell him in person how much I enjoy his books.
– What is one item you have either made/ tried/ learnt while being in lockdown, and was it successful?
Launching All That is Left (Kwela) online was interesting – I actually enjoyed it very much! It felt more intimate than a real-life launch, and it made it possible for my mother to be there. Also, at the last minute the Time of the Writer Festival had to teleport to an on-line platform so, as one of the participants, it was interesting and challenging to do a 3-way live twitter interview for the first time. I've certainly learnt a few skills, having had to engage more with technology during the lockdown.
– While the lockdown was fairly sudden, and our new normal sprang up quickly, what has been a silver lining to you during this time?
It's given me time to clean the house properly. This has been a relief and incredibly satisfying. Not having a daily commute has also given me an hour and twenty extra minutes to my weekdays. That's six hours and forty minutes every week. Time is my most valuable resource. It is one thing we can never get back.
– We have all had time to realise that we miss certain things or places during this time, what is yours?
I miss the smiles of and interactions with colleagues, I miss being able to have coffee or a drink with a friend, I miss laughter, I miss my morning sea swims and my afternoon walks.
– What is one pet hate in your current situation with who you live with? Be it a partner, child or animal?
Just the inability to be alone sometimes. I think I absorb the presence of other people too easily. This impacts my writing, and slows it down..
Thank you Kirsten for sharing your thoughts and time with us, it was lovely getting to know the person behind the book. If anyone would like a sneak peak into All That Is Left you can read an extract here.
And here's to week three of Quarantine Lockdown, day 19 in Cape Town. May you all stay safe and well.
---
2 Responses to "Homegrown : The SA Author Campaign"