First lines. Opening sentences. The story begins.
Is there anything more satisfying than a good opening line, with words that whet your appetite and tantalise the tastebuds of your story soul? A sentence that marks the beginning of the journey you're about to embark on, evolving into a paragraph that entices you into a brand new world. A story created just for you.  Stories resonate, some make you angry, or sad, or sob. Sometimes, you just have to share your thoughts on a particular book and how it makes you feel.
Enter: The Giver of Stars by Jo Jo Moyes.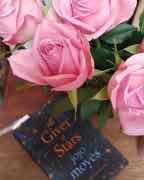 It was bought for our bookclub last year, we each get a turn to host. The host purchases their selection of books, and we take turns to read them. So, I waited patiently for the copy of  The Giver of Stars to make its way to me, and then at the end of Feb, it was my turn. But I also had a copy of Grown Ups by Marian Keyes to read. Choices, choices! What to read first when both were clamouring for my eyeballs?  So I did what I always do and I read the first few pages of each book.  I could feel a certain energy emanating off the page of  'Stars' as if the author was speaking directly to me through her characters. Her voice was loud and clear, and she kept my attention on a book I think she needed to write.
I thoroughly enjoyed it. This book is such a relevant read in our day and age. And while the book was set in the late thirties, the entire premise shows us that some things haven't changed in regards to a partriachal society. Granted there is a definite process presently taking place, where women are beginning to speak up and take back their power, but not everywhere. There are still many women who are beaten into submission because they go against the 'rules'.  Still many women who are silenced because of societal norms. But this book shows us what happens when we DO stand up, speak up, to show our truth, and what can happen if we don't. What I adored about this book is that ALL the characters were portrayed so damn well. The men, and women. Because not all men are alike. Neither are woman.There was a sentence in the book, which I failed to write down, but it inferred that "women realise they are weaker than men when they are hit. But only until they (the women) strike back."  It really resonated with me. It made me remember that I am brave.
The female characters are a diverse and accurate portrayal of individuals who believe they are alone, but when one woman inspires a group, they are beyond powerful and great changes occur, which is SO relevant in our world today. The story shows the power of community, of women on a mission, of living one's truth, no matter the cost. It was a simple reminder that we all have a choice. The decisions might not be easy but we always, always have a choice.
I'm not going to give you a piece by piece breakdown of the book, suffice to say, you should read it.  I went in blind. All I knew was it had something to do with a mobile library in America, and was based on truth. (In fact, my initial thoughts were ah, not so sure about this one… ha, right, turns out it's a five star relevant read,  I should NEVER judge a book by its cover…) Which is all I'm going to give you. Go read it, I really don't think you will be disappointed. Then google it. But read it first.
As for JoJo Moyes, I think this is her best book yet. Relevant. Authentic. Brave.  A beautiful exploration of being a women amidst societal expectations.
---
2 Responses to "When words collide"