Alex Latimer, author of The Boy who Cried Ninjah, Penguins Hidden Talent, The South African Alphabet and Aardvark to Zuma very kindly answered some questions in an email interview for The Book Club Blog. I had reviewed Aardvark to Zuma and loved it as well as the illustrations!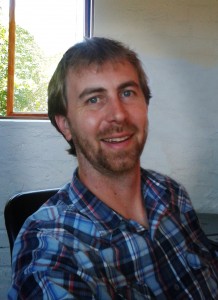 Alex Latimer
I hope you enjoy reading this interview as much as I did!
1)  What were your favourite books as a child?
 My father (Dick Latimer)  published a children's book in 1983 called The Expedition to the Rainbow's Heart – and that for me was a special book. Not only was it beautiful to look at, but it brought the world of publishing to my attention at a young age. I also loved the Asterix books – looking at them now, they're quite amazing. The humour and the storylines were so well crafted – and the drawings of Roman cities were so simple yet full of detail. 
2)  What book/s are you currently reading?
 I'm reading several books right now – Russell Hoban's Riddley Walker, Leonard S Marcus' book Show me a Story as well as a pile of others beside my bed.
3) To date, what is the worst book that you have read?
 No question about it – Beatrice and Virgil by Yann Martel. I may have started worse books and not finished them, but I got all the way through Beatrice and Virgil hoping it'd redeem itself. I still feel cheated that I wasted time reading that book. I'm sure Yann Martel is a nice guy, and I'm sure he'll write good books again – but that was undoubtably the worst for me.
4)  What inspired you to write Aardvark to Zuma?
 Before the World Cup came to South Africa I got to thinking that there'd be a lot of tourists who just wouldn't understand South African culture. So I thought about making the book for that, as an educational tool – but as I worked on it, I found that it was more of a book for South Africans. I suppose that's because it's full of in-jokes that only South Africans will really understand.
5)  When did you first become aware that you were interested in illustration?
 I've always loved to draw – but I don't think I realised I could be an illustrator until about eight years ago. It was then that I wrote the script for my first children's book The Boy Who Cried Ninja – and having had no luck in finding an illustrator to draw it up, I did it myself. It took a lot of practice and hard work, but I'm very glad I did it.
6)  Who is your favourite illustrator and what book would your recommend to read?
 I have a lot of favourites – right now I'd say Scott C. and Johan Klassen are my top two. Try Great Showdowns and I Want My Hat Back.
7)  Do you find inspiration in the every day or is there a particular muse that strikes inspiration within?
 I think my muse is a tight deadline. 
8) How did you come into the children's book writing genre?
 It'd difficult to say. I suppose I've always wanted to write books, and I thought that starting with something short would be easier. I was mistaken. Quite often the shorter the text, the more difficult it is to write.
9) Is there another picture book for adults in the pipeline?
 Yes. I'm working on an illustrated version of The Just So Stories. Kipling's stories are so lovely and I think children and adults still love them as much today as when they were written.
10)  I know this is a bit of a cliched question, but if you had any advice for an aspiring illustrator, what would it be?
 Find your own unique style. Being able to draw in a variety of styles is great – but having your own signature style makes your work memorable and sets you apart from the competition.
I have to say that I agree whole heartedly with Alex regarding the awfullness of Beatrice and Virgil by Yann Martel, all though I didn't manage to finish it. I am also excited to see the illustrated version of The Just So Stories and I am sure so will Michel Heyns as I know from his interview with us, that he loved The Just So Stories as a child.
Alex, thank you so much for joining us here on The Book Club Blog, it was great to have you!