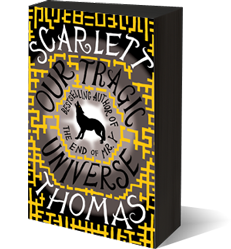 I really enjoy Scarlett Thomas's writing. In Our Tragic Universe, she doesn't fail to capture the imagination and pull you along the tide of her words.
Though saying that, I didn't think that this was her best book. I far enjoyed 'The End of Mr Y' more aswell as Popco. If you haven't read either of these, find yourself a copy,they are extremely good.
Basically, the story is about Meg and her life, philosophy, the age of self help books and how we tend to want the 'perfect' life which is just fictionalised anyway. More than that of course, but that would give it all away…
I found it unputdownable and enjoyed it. I love her writing and I always find that I am left thinking about the world and people after I have finished one of her books. That to me, is a sign of a very good book.
---
One Response to "Book Review – Our Tragic Universe"