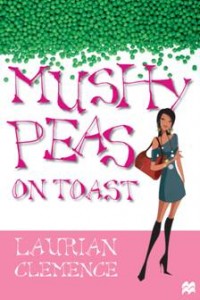 Mushy Peas on Toast by Laurian Clemence is not only a book but a blog too. So, if you haven't read this book, and you think you might, you can head over there to see if you like her style of writing.
I have to say, that I didn't particularly enjoy this book. I finished it, with some skim reading – I found large parts of it just carried on and on saying the same thing, and to me, that is a lot like boredom.
The idea was great, and maybe it is even based on a real life story, I don't know, but it was too wishy washy for me.
In a nutshell, the main character, Peas, has broken up with her long term boyfriend and finds herself alone for the first time in years. It is the journey she takes of re finding  herself and learning to love herself as is, without the need for a man in her life to take care of her. The premise for this sounds great, how many of us have found ourselves in that situation and had the wind knocked out of us? But I didn't enjoy her writing account of it.
For me, it was slightly too self indulgent and sameish.
I have heard from others who have read this book and loved it, saying its the best chick lit book in ages. Hence the reason why I picked it up to read.
Sadly, it did disappoint me.
Have you read it and if so, what did you think?
Book review - Mushy Peas on Toast

,
---
4 Responses to "Book review – Mushy Peas on Toast"