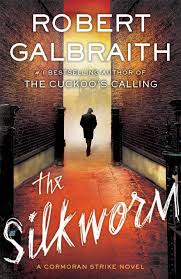 Welcome to my new favourite series! I read The Cuckoo's Calling a few months ago and thoroughly enjoyed it! You can read my review here and the next in the series does not disappoint.
Cormoran Strike is officially one of my new favourite characters in a book with his trusty sidekick Robin, who is navigating her relationship with her fiancé and having found her calling in her work life. I do like how it is been portrayed in the book and adds in an extra dimension to the characters. Strike is Strike, a war veteran with one leg and relationship issues with his ex. I really enjoyed that he didn't succumb to his fleeting desire to get in contact with his ex girlfriend Charlotte.
I found the murder in this book a little gruesome (and have to admit to having had a night mare one night which was closely related to the books murder…doesn't happen often when a storyline heads into my dreamscapes…) but the book was full of literary references and was twisty enough to keep one interested and entertained. The only thing which I did notice and which detracted slightly from the book, was the continued references to how Strike was feeling at times, it just felt a little repetitive, though I am not sure if it is just because I read the first one a few months ago, so still have that as a reference inside my head or if it was slightly repetitive. Other than that, I enjoy her writing and I think she manages to wheel the reader in and keep one there in order to find out what happens.
I would highly recommend this series if you are interested in crime novels with a heart.
Have you read it, what did you think? Are you as taken in as I am?